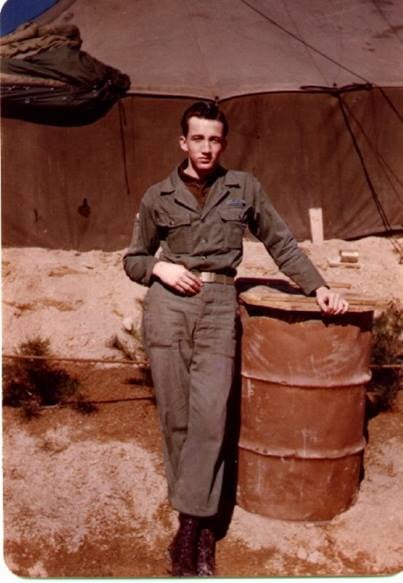 With July 4th just celebrated – we wanted to share our personal and hopeful Veteran story!
When my father-in-law passed away over 10 years ago, he didn't have any life insurance or any retirement pension to help my husbands's Mom with any living expenses. It has been a financially tight 10 years for her- living only on her social security pension.
Dad had served his country – in the Korean War. Though he had received some health care from Veterans Administration, we were never told that there might be some additional benefits or financial assistance from the VA.
When Mom's health failed a year ago and she was in Rehab and then temporarily in Assisted Living- we were told that Mom might qualify for a War widow pension called AID and ATTENDANCE.
We were directed to a company called PATRIOT ANGELS that helps families put together the documents and a file to submit to the VA for this special pension.
They were fantastic. Helped my husband and I with all the necessary paperwork, consulted with us about pre-screening her to see if she qualified and then helped us put the paperwork together to submit to the VA.
They told us, based on the consultation and the initial paperwork we filled out that they felt that Mom qualified for the AID and ATTENDANCE War Widow Pension!
This pension did have some criteria: The Widow had to be in an Assisted Living Community where she/he needed 24 hour care and a Medical Doctor stating the widow needed care.
The Widow could not have remarried. It is only for widows of Men and Women who served in war time.
However, when Mom was encouraged to try living in her home again, the pension file had to be put on hold. Until she could file again showing that she needed assistance based on her health.
In January of this year, Mom took a turn in her health and the decision was to finally make the move to the lovely LakeView Terrace Senior Assisted Living Community. We again reopened the file with Patriot Angels and started the VA process again.
We waited patiently, provided updated documents, as we were told the process could take 6 months to a year due to the back log at the VA.
After July 4th weekend, we were checking her banking as we always do and found a deposit from the VA!! Mom had been approved and received the War Widow Aid and Attendance Pension!! We hadn't received the confirmation in the mail yet but there is was!!
If you or your family need any assistance with navigating the VA or would like to get any information we are here to help! Contact us anytime!!
Also: if you have any furniture, or you are moving Mom/Dad into a smaller condo or assisted living please consider donating items to a Veterans services Organization with the Salvation Army. They help veterans moved into furnished apartments after they are homeless or had a medical hospital stay. Let us know if we can help and we will connect you with this wonderful organization!!
Here is a Video about Patriot Angels: